LV Switchgear Assembly Line
LV Switchgear Assembly Line
Kiande

China

7-15 Days

1000 Per Month
Quality Switchgear Production Line manufacturers & exporter - buy Low Voltage_Medium Voltage_High Voltage Switchgear Production Line from China manufacturer.
LV Switchgear Assembly Line
This LV cabinet production line is to realize the line working manner from housing installation to off-line procedure. In this line, all kinds of fixtures, RGV trolley, modular robot, related apparatus and etc are applied to help housing accessories installation and finally transferred to finish the inspection for delivery.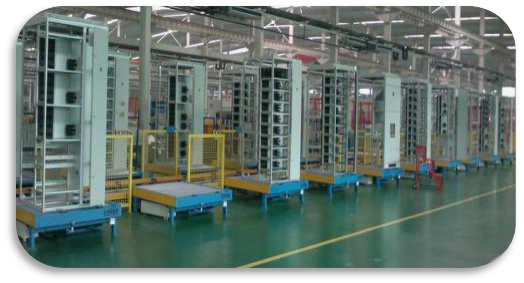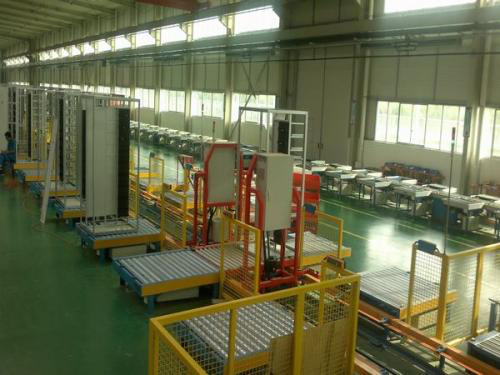 | | |
| --- | --- |
| No. | Parameters |
| Model | KD-LV-20-50 |
| Nos of Wharf | 20~50个 20~50 pieces |
| RGV Trolley | Motor vehicle head type RGV |
| Frame Assembly | Reversal Automatic Positioning |
| Nos of Frame Assembly | 2 sets |
| Control Mode | PLC Internet Connection |
| Installation Mode of Plate | Manual or Industrial Robot Installation |
| Efficiency | 20 sets/shift |
| Size of Equipment | L50m*W8m |
Suzhou Kiande Electric Co.,Ltd. is a scientific company integrated R&D, production, sales and service. Company is located in Suzhou which mainly serves for electric field to provide intelligent production machine and systematic solution in working efficiency, quality, cost and data calculation.
Business scope:
l Automatic production equipment:
1. Busbar production equipment
Kiande is specialized in manufacturing and customizing busbar production machines including manual production line, semi-automatic production line, automatic production line, automatic inspection machine, automatic packaging machine, automatic mylar forming machine, automatic mylar slitting machine, profile cutting machine, busbar processing machine, gas hydraulic press machine, joint bar processing center, welding robot, elbow production machine, NC position fixture and other machines related to busbar processing .
2.Switchgear cabinet production equipment
Kiande is specialized in manufacturing and customizing high/medium/low voltage switchgear cabinet production line, CT manipulator, drawer stereo storehouse, RGV trolley, switchgear cabinet housing reversal line and other machines which are related to switchgear cabinet processing.
l Imp.&Exp. busbar and equipment
To help client to import and export electrical products including high/low voltage switchgears, sandwich busbar trunking system, illumination busbar and rail busbar etc.
l Busbar accessories:
Kiande can provide all accessories related to busbar including busbar joints, tap-off units, joint separator, insulation Mylar, profile casting capped end, copper pins for tap-off unit, plug, socket, tap-off unit outgoing sheath, double head bolt and temperature indicator etc.
Detailed Product Description
The switchgear production line is composed of assembly, testing and packaging lines.
1. Overview:
1.1 Length and hight of automatic production line: 50m and 3.8m
1.2 Switchgears suitable for production: 650/800/1000/1200 cabinet type with max. weight 2000kg
1.3 Daily yeild output: 12 pieces/8hours
2. Configuration:
2.1 The main assembly line adopts type of straight length with a RGV for transmission and work stations deployed beside two sides of the straight line.
2.2 FAT area is set at the end of the production line.
3. Production procedures:
3.1 Panel assembly-installation of meachnism parts & movable guide-earthing switch assembly-installation of mutual inductor-instrument cubicle
3.2 Secondary connection-panel installation-busbar installation-breaker into cabinet
3.3 facility and voltage withstand testing-final check of facility-FAT
4. Features:
4.1 Automatic motor-trolley is electrically driven by sliding contact;
4.2 Barcode localization enables accuracy, stability and self-verification of localization between work stations;
4.3 RGV adopts frequency control to make sure of the stable transimission.
4.4 Assembly line uses module design with flexible deployment.
All our products are customized.Please kindly contact us directly for further details.