Busduct Splice plate
Busduct Splice plate
Kiande

China

7-15 Days

1000 Per Month
Installation Guidence of Busduct Joint 
Step1:dentify the correct joint stack (either 4W or 5W) and its phase orientation before Busduct joint pack installation
Step2: Align and connect both busduct terminal with joint stack connector.
Step3:Joint stack stopper acts a guideline to ensure a full contact surface of the overlapping conductors.
Step4: Tighten the double headed bolt by using socket wrench untile the outer head shear off.
Step5:Place joint pack covers on both sides of the busduct joint section and tighten all the bolts and nuts with socket wrench.
Insulated Copper Busbar Machine
Busbar Accessories Insulation Separator, Barriers, Insulation Panel for Busbar Trunking Joint, Insulation Plate, Insulation separator
Installed in joint for insulation
Material: DMC
Size and color can be customized

Busbar machine copper processing
Need Kiande's busbar gas-hydraulic copper bar punching machine(This is one-time punching forming. In the market, some busbar manufacturer buys three-in-one busbar machine to bend and punch copper or aluminum bar. As the bar experiences many procedures, the accuracy is not good which will cause the phase distance too small to cause the short circuit.)


Busbar machine mylar sleeve processing machine polyester film forming machine
Need Kiande's mylar/polyester film forming machine. In the market, some busbar manufacturer requests workers to wrap the bar manually. Different workers have different workmanship. If employer meets the inexperienced workers, the wrapping part will have some gaps which will cause the short circuit.


Busbar machine busbar accessory 3M insulation film Conductor(Copper bar/Aluminum bar) end wrapping


Busbar machine busbar accessory Aluminum profile capped casting capped end


Busbar machine Busbar riveting machine


Busbar machine busbar inspection machine busbar testing machine


Busbar machine busbar packing machine busbar packaging machine


Busbar machine busbar accessory rivet the rivet is to connect the profiles instead of bolts more stable and strengthen


Busbar machine busbar accessory joint isolator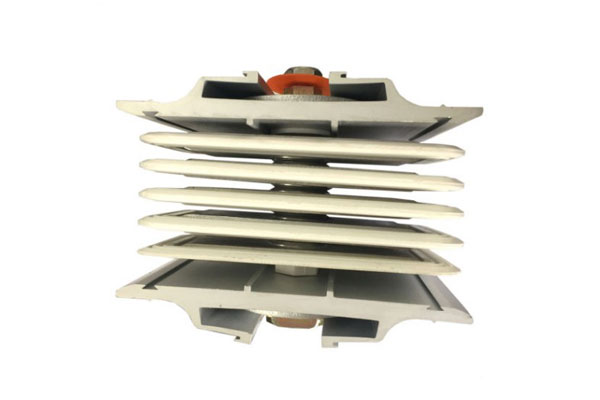 Busbar insulation barrier
Features:
1. Installed in joint for insulation
2. Material: DMC
3. Size and color can be customized


Suzhou Kiande Electric Co.,Ltd. is a comprehensive scientific enterprise specialized in intelligent production and data analysis for electricity manufacturing field. Company's head office is located in Suzhou(Paradise on earth) and manufacturing center is in Zhen Jiang(Chinese electricity island).It covers R&D dept, design dept., production dept., sales dept. and after-service dept. which improves to provide better programs for production efficiency, quality, cost and data.
Busbars are now becoming irreplaceable simply because of the convenience and safety factor. While using traditional cables, the cost of cabling and trunking and the time taken for installation is much higher than busbars as well.
Installing busbars over conventional cabling has a range of advantages some of which are mentioned below:
Design: Busbars have a compact design through which compressed flat conductors can pass through the enclosure. Due to the compact designs, busbars require lesser space than traditional cabling systems and this is a major advantage when thousands of amperes of electricity need to be transmitted.
Heat Absorption: Since the design is compact and has a metal casing with well-defined surface, busbars can absorb heat generated while transmissions and distribution of electricity in the walls of the enclosure. The system of cooling is much better than traditional cabling system.
Flexibility: Busbars are more flexible in nature compared to cables in the sense that it can be used in any kind of structure with any configuration. They are easily modifiable and hence the addition of an extra room or building can be easily done. Busbars can also be relocated without much of a capital expenditure.
Cost Savings: Busbars can be mounted easily than a cable and incurs a lesser cost of installation than traditional cables. They can also be mounted at a lesser time than traditional cables.
Better Resistance: Busbars have rigid design elements and hence has better resistance than cables, especially in case of short circuits. Busbars have a minimum distance between the conductors which in turn reduces the induction of resistance. Busbars also have a thin and flat tire which helps in optimal distribution of density of current and in turn reduces resistance. Due to lower levels of density, voltage loss is much lower than cables for the same length.
Reduced Loss of Energy: Busbars have lower resistance than cables. Hence the loss of energy due to transmission and distribution is lower in Busbars. Busbars also have a limited growth of reactive power to operate compared to cable systems.