fabrication elbow busbar assembly machine
fabrication elbow busbar assembly machine
Kiande

China

30 Days

10Per Month
fabrication elbow busbar assembly machine

Quality Busbar Fabrication Machine manufacturers & exporter - buy Busbar Manual Assembly Line/busway system assembly machine from China manufacturer.
Busbar Process Machine is divided into platform type and elevator type. Also the frame can be selected between aluminum alloy material and iron material. It is used for busbar assembly.
Busbar elbow assembly line
The busbar elbow assembly line is used to achieve the busar elbow riveting procedures.
Application:
1. Suitable for 90°flatwise, edgewise elbow compact busbar L or Z type;
2. Busbar length suited to be riveted:0.5m to 1.2m
Configuration:
1. One set of power cabinet;
2. One set of the elbow line;
3. Riveter(Optional);
4. Hanger(Optional);
Working principle:
Rise in the direction of up and down is achieved by motor deceleration and it can be adjusted according to the busbar current specifications. Clamping in the direction of up and down is achieved by cylinder force which is to promote copper bar and profiles completely together to achieve compact requirements. It is mainly for edgewise elbow production. Clamp in left and right direction adopts cylinder compression. It is fixed clamped by cylinder compression, mainly for the flatwise elbow production.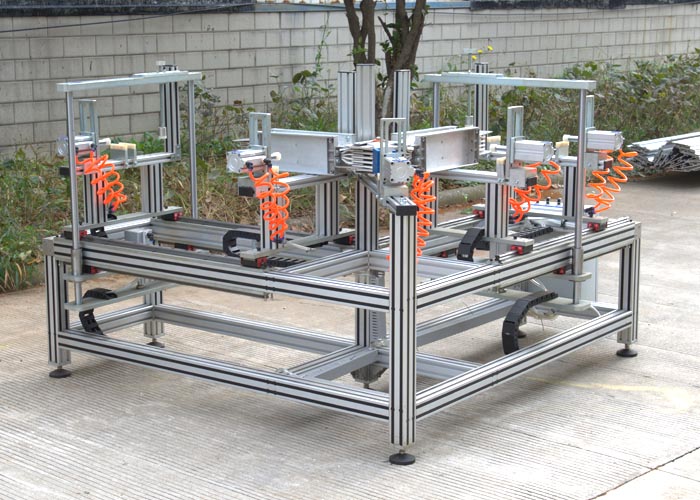 | | |
| --- | --- |
| No. | Parameters |
| Model | KD-WTGZ-SP/CZ-1500 |
| Max. Size of X/Y Axis | 1500mm |
| Clamping Fixtures Nos | 3 pieces |
| Elbow Type | Horizontal type, vertical type |
| Power | 380~415VAC 50~60Hz 1.5kW |
| Air Source | 0.6MPa |
| Equipment Dimension | L1800mm*W1800mm*H900mm |
Suzhou Kiande Electric Co.,Ltd. is a comprehensive scientific enterprise specialized in intelligent production and data analysis for electricity manufacturing field. Company's head office is located in Suzhou(Paradise on earth) and manufacturing center is in Zhen Jiang(Chinese electricity island).It covers R&D dept, design dept., production dept., sales dept. and after-service dept. which improves to provide better programs for production efficiency, quality, cost and data.
Business scope:
1.Specialized in automatic production equipment:
Ø Mainly in busbar production equipment
Kiande is specialized in manufacturing and customizing busbar production machines including manual production line, semi-automatic production line, automatic production line, automatic inspection machine, automatic packaging machine, automatic mylar forming machine, automatic mylar slitting machine, profile cutting machine, busbar processing machine, gas hydraulic press machine, joint bar processing center, welding robot, elbow production machine, NC position fixture and other machines related to busbar processing .
Ø Mainly in switchgear cabinet production equipment
Kiande is specialized in manufacturing and customizing high/medium/low voltage switchgear cabinet production line, CT manipulator, drawer stereo storehouse, RGV trolley, switchgear cabinet housing reversal line and other machines which are related to switchgear cabinet processing.
2. Specialized in Imp.&Exp. busbar and equipment
To help client to import and export electrical products including high/low voltage switchgears, sandwich busbar trunking system, illumination busbar and rail busbar etc.
3. Specialized in busbar accessories:
Kiande can provide all accessories related to busbar including busbar joints, tap-off units, joint separator, insulation Mylar, profile casting capped end, copper pins for tap-off unit, plug, socket, tap-off unit outgoing sheath, double head bolt and temperature indicator etc.
Product Details:
| | |
| --- | --- |
| Place of Origin: | Jiangsu, China (Mainland) |
| Certification: | Kiande |
| Model Number: | KDEQ-127 |
Payment & Shipping Terms:
| | |
| --- | --- |
| Minimum Order Quantity: | 1 Set |
| Price: | US $ 2473-4125 |
| Packaging Details: | plywood case |
| Delivery Time: | 45 working days after receiving the downpayment |
| Payment Terms: | L/C,T/T |
| Supply Ability: | 20 sets |