compact busbar high-voltage testing machine
compact busbar high-voltage testing machine
Kiande

China

60 Days

10 Per Month
Automatic inspection machine is composed of three parts, feeding positioning station, inspection station and discharge station. Its mainly used for testing the busduct short circuit and isolation.
When the busbar enters the feeding position, the control system will select the right testing fixture to start testing from the information identified by bar code or previous assembly line. Three tests will be performed including HV withstanding test, insulation resistance test and grounding test.
After test is finished, testing report will be generated. This report can be saved, printed on site and recorded remotely. Its format can be set according to customer's requirements. Automatic inspection machine is mainly used for batch inspecting on the straight busbar. Elbow busbar type shall be tested on manual inspection machine.
Busbar Automatic Inspection Line Machine
| | |
| --- | --- |
| No. | Parameters |
| Model No. | KD-JCX/M-6(4.5) |
| Height of Busbar | 100~650mm |
| Length of Busbar | 1000mm~6000mm |
| Busbar Type Suited | Straight Busbar |
| High Voltage Withstanding | 0~5000V AC |
| Insulation Testing | 1~1000V |
| Grounding Testing | 0~25A |
| Total Power of Equipment | 300W |
| Size of Equipment | L6200m*W800m*H800m |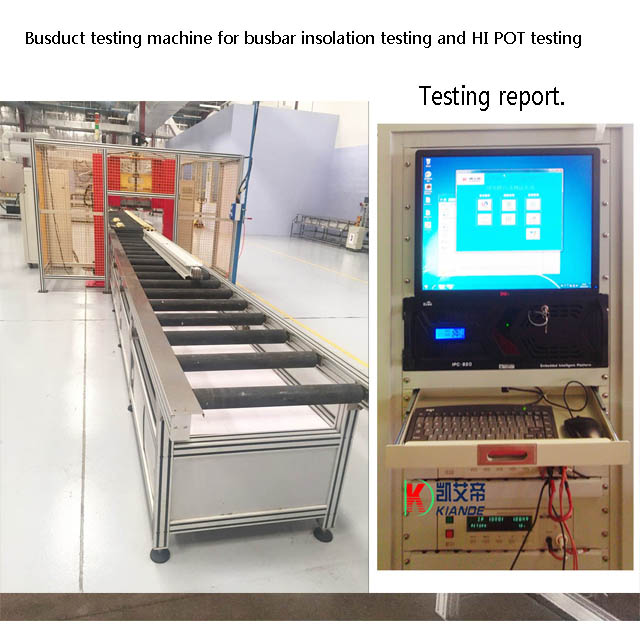 Suzhou Kiande Electric Co.,Ltd. is a comprehensive scientific enterprise specialized in intelligent production and data analysis for electricity manufacturing field. Company's head office is located in Suzhou(Paradise on earth) and manufacturing center is in Zhen Jiang(Chinese electricity island).It covers R&D dept, design dept., production dept., sales dept. and after-service dept. which improves to provide better programs for production efficiency, quality, cost and data.
Business scope:
1.Specialized in automatic production equipment:
Ø Mainly in busbar production equipment
Kiande is specialized in manufacturing and customizing busbar production machines including manual production line, semi-automatic production line, automatic production line, automatic inspection machine, automatic packaging machine, automatic mylar forming machine, automatic mylar slitting machine, profile cutting machine, busbar processing machine, gas hydraulic press machine, joint bar processing center, welding robot, elbow production machine, NC position fixture and other machines related to busbar processing .
Busbar Trunking System is the is a system of distributing electric power using copper or aluminium busbar with suitable enclosures and good amount of protection to prevent the cables from getting damaged due to foreign bodies.
Busbars are now becoming irreplaceable simply because of the convenience and safety factor. While using traditional cables, the cost of cabling and trunking and the time taken for installation is much higher than busbars as well.