Busway short circuit testing machine
Busway short circuit testing machine
Kiande

China

60Days

8 Per Month
Electrical parts of the Automatic Busbar Detection Machine
1Touch screen(Omron)
2 Inpection PLC control system(Omron)
3 Frequecy drive:(Omron)
4 Low-voltage electrical accessories: Schneider
5Sensor(Omron)
Automatic Busbar Detection Machine

Suzhou Kiande Electric Co.,Ltd. is a comprehensive scientific enterprise specialized in intelligent production and data analysis for electricity manufacturing field. Company's head office is located in Suzhou(Paradise on earth) and manufacturing center is in Zhen Jiang(Chinese electricity island).It covers R&D dept, design dept., production dept., sales dept. and after-service dept. which improves to provide better programs for production efficiency, quality, cost and data.
Automatic inspection machine is composed of three parts, feeding position station, inspection station and discharge station. When the busbar enters the fixed position, the control system will select the right testing fixture according to bar code or previous assembly station to start testings of high voltage withstanding, insulation resistance and grounding, make judgement whether it's qualified and generate testing report. This report can be saved, printed on site and stored remotely etc. It can be set according to customer's requirements.
Automatic inspection machine is mainly used for batch inspecting the straight busbar, elbow type should be tested on manual inspection machine.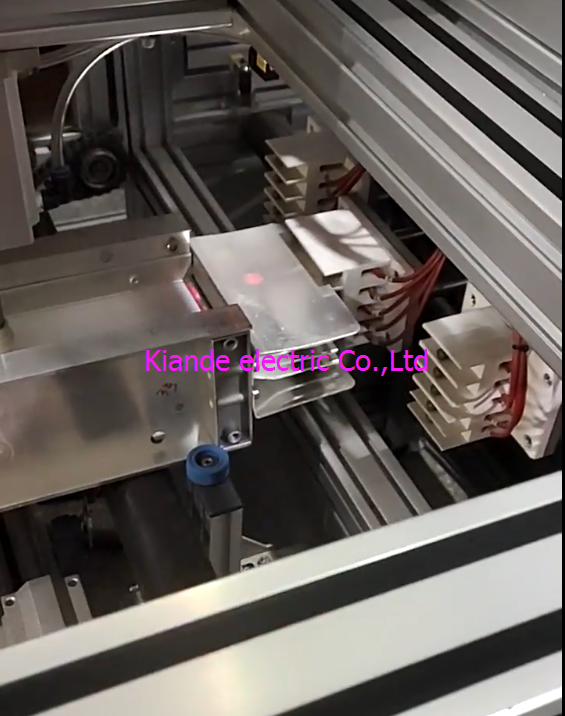 | | |
| --- | --- |
| No. | Parameters |
| Model No. | KD-JCX/NC-E/H-6(4.5) |
| Length of Busbar | 1200mm~4500mm) |
| Position Type | Unilateral / Middle |
| Vision System | Phase error Judgement( Optional) |
| High Voltage Withstanding | 0~5000V AC |
| Insulation Testing | 1~1000V |
| Grounding Testing | 0~25A |
| Total Power of Equipment | 3kW |
Kiande is a China supplier/ manufacturer of busbar joint. Choose us, you can be get most careful and thoughtful service!