Busbar Processing Machine
Busbar Processing Machine
Kiande

China

7-15 Days

1000 Per Month
Busbar testing machine is specifically for compact busbar insulation test and voltage test.This inspection machine can memorize the testing result by computer and transferred to the network via information share.
Normally client will equip the busbar assembly machine with busway packing machine to realize the fully automatic production.
Meanwhile we also develop the conductor processing machine to guarantee the raw material production.Then when inspection machine testing bus bar,the qualified ratio will be greatly improved.
Busbar Processing Machine
All our products are customized.Please kindly contact us directly for further details.

The automatic busbar fabrication machine is used for busbar production procedures to realize busbar manual assembly, automatic clamping, riveting and moving etc to improve the busbar production level and quality.

Application range


Our machine can be used on busbar with parameters below:
Current rating: 630A~2500A(single layer busbar)

Phase and wire: 3P3W,3P4W,3P5W

Busbar type: straight length(two-piece type aluminum alloy enclosure, also called H type aluminum profile)

Busbar length: 1.5m to 6m

Busbar socket: single side or double sides

As for limitation of the riveting machine, the wide notch of the U type cover plate of busbar profiles shall exceed or be equal to 42mm.
Configuration:
1. Mechanical parts:
The frame adopts 60*90 aluminum material equipped with rollers for transferring the busbar;

Assembly fixture sets up three movable cantilevered clamping mechanism;

Busbar end face alignment mechanism uses galvanized steel structure, driven by cylinder;

The automatic riveting system has two riveting guns, one set of safe fence in aluminum frame and steel wire net and supporting facility for riveting procedure;
2. Electrical parts:
Computer and PLC are the key parts of control system. The network connect the computer and Omron PLC to ethernet protocol.

Set the parameter in every riveting part;

Set the equipment run speed and manual position;

Communicate with barcode scanned machine;

Communicate with the riveting machine control system;

Others
Color of the equipment is customized.

Warranty is available.
Please log in our website www.busbarequipment.com for details.
Automatic assembly line has four-piece type and two-piece type. Busbar can be assembled automatically with rivets or bolts according to the design.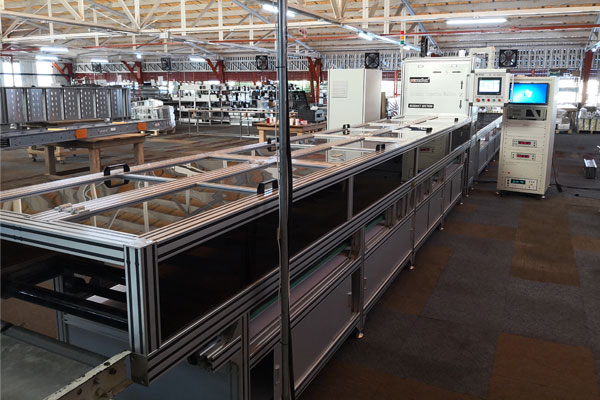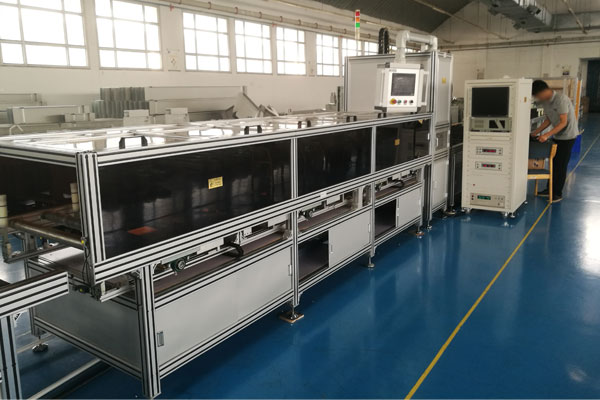 The automatic assembly machine has self checking functions, including self diagnosing each input and output signal, preventing failures and counting the machine's OEE (comprehensive utilization rate) for the big data analysis in the future.
Automatic Busbar Assembly Line Parameters
| | |
| --- | --- |
| No. | Parameters |
| Model No. | KD-ZDX/NC-2(4)D-6(4.5) |
| Maximum Busbar Height | 350mm (Single layer) |
| Maximum Busbar Length | 6000mm |
| Position Type | Unilateral / Middle |
| Working Efficiency | 2 min/3 Meter |
| Control Axis | 5 Axis |
| Control System | Network Control, Online Maintenance (Optional) |
| Nos of Riveting Station | 4sets (Four Piece Type)/2sets (Two Piece Type) |
| Riveting Type | Automatic Riveting |
| Total Power of Equipment | 20kW |
| Size of Equipment | L25000mm*W2000mm*H19000mm |