Busbar Copper Processing Machine
Busbar Copper Processing Machine
Kiande

China

7-15 Days

1000 Per Month
Busbar Copper Processing Machine
All our products are customized.Please kindly contact us directly for further details.
CNC busbar bending punching shearing machine can realize automatic bending of two ends, as well as automatic opening mouth and pressing of piler through inputting required length, width and piler position in the PLC control system.
No.

Parameters

Model No.

KD-DTJGJ-C/A-4.5(6)

Force


(KN)

Bend

400




Punch

300




Piler Head

300

Min. Conductor Length

1200mm

Stroke of X Axis

4m

Speed of X Axis

0~10m/min

Marking

Pneumatic, Barcode, QR code (Optional)

Conductor Size (Aluminum, Copper)

Length

1000mm~6000mm




Width

300mm~140mm




Thickness

2mm~4.5mm

Positioning Accuracy

0.2mm

Repetitive Positioning Accuracy

0.05mm

Max. Cutting Width

280mm

Power of Saw Blade

2kW

Diameter of Saw Blade

400mm

Max. Bending Width

300mm

Max. Bending Height Difference

40mm

Max. Hydraulic Force

31.5Mpa

Total Power

6kW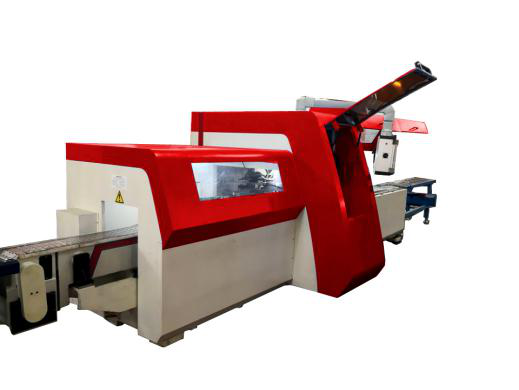 Product Details:
| | |
| --- | --- |
| Place of Origin: | Jiangsu, China (Mainland) |
| Certification: | Kiande |
| Model Number: | KDEQ-124 |
Payment & Shipping Terms:
| | |
| --- | --- |
| Minimum Order Quantity: | 1 Set |
| Price: | US $ 2473-4125 |
| Packaging Details: | plywood case |
| Delivery Time: | 45 working days after receiving the downpayment |
| Payment Terms: | L/C,T/T |
| Supply Ability: | 20 sets |
Suzhou Kiande Electric Co.,Ltd. is a comprehensive scientific enterprise specialized in intelligent production and data analysis for electricity manufacturing field. Company's head office is located in Suzhou(Paradise on earth) and manufacturing center is in Zhen Jiang(Chinese electricity island).It covers R&D dept, design dept., production dept., sales dept. and after-service dept. which improves to provide better programs for production efficiency, quality, cost and data.
Business scope:
1.Specialized in automatic production equipment:
Ø Mainly in busbar production equipment
Kiande is specialized in manufacturing and customizing busbar production machines including manual production line, semi-automatic production line, automatic production line, automatic inspection machine, automatic packaging machine, automatic mylar forming machine, automatic mylar slitting machine, profile cutting machine, busbar processing machine, gas hydraulic press machine, joint bar processing center, welding robot, elbow production machine, NC position fixture and other machines related to busbar processing .
Ø Mainly in switchgear cabinet production equipment
Kiande is specialized in manufacturing and customizing high/medium/low voltage switchgear cabinet production line, CT manipulator, drawer stereo storehouse, RGV trolley, switchgear cabinet housing reversal line and other machines which are related to switchgear cabinet processing.
2. Specialized in Imp.&Exp. busbar and equipment
To help client to import and export electrical products including high/low voltage switchgears, sandwich busbar trunking system, illumination busbar and rail busbar etc.
3. Specialized in busbar accessories:
Kiande can provide all accessories related to busbar including busbar joints, tap-off units, joint separator, insulation Mylar, profile casting capped end, copper pins for tap-off unit, plug, socket, tap-off unit outgoing sheath, double head bolt and temperature indicator etc.
Detailed Product Description
Automatic testing machine for busbar trunking systems
The set of testing machine is used for busbar online inspection to improve the busbar production efficiency and quality, and decrease the labor's working force.
Equipment application
Current rating of busbar: 630A~2500A(Single layer busbar)

Phase and wire: 3P3W,3P4W,3P5W

Busbar length suited to be inspected:1.5m to 6m

Equipment working efficiency:3min/piece
Equipment configuration:
One set of automatic patching machine

one set of automatic inspection instrument

One set of busbar automatic inspection electrical control system
Others
Custom and warranty are available.

The new version is equiped with cover on line for more safety.